Webmail.Spectrum.net Email Login [Roadrunner Email]
Spectrum Email.
How do I log in to my Spectrum Webmail account?
Since Roadrunner Email, Bright House Networks and TWC Email were phased out and replaced by the Spectrum Webmail brandname, many users have had problems logging in to their old email accounts.
Go To Spectrum Login or Go To Support
Please be aware that the following older login URLS all now re-directs you to the new Spectrum Webmail login page:
Http://www.RR.com
Http://mail.TWC.com
https://webmail.twc.com
Https://myservices.brighthouse.com/login
Https://Webmail.roadrunner.com
Https://mail.roadrunner.com
https://www.charter.net/login
The HTTPS versions will sometimes display a "Timed-out" connection page instead. If you have these pages saved bookmarks in your browser, you should up-date them to the new Spectrum Webmail login page.
The new Spectrum Email login page can be found at: https://webmail.spectrum.net/mail/auth.
Once you are on the login page, enter your Spectrum email address and email, click on the "Im not a Robot" box, and then click on the 'Sign In' button.
If the above Spectrum Email login page will not load, then try https://www.spectrum.net/login/, instead.
If you choose to log in through the https://www.spectrum.net/login/ sign in page, you can check your email inbox simply by clicking on the envelope icon, located near the top of the page.
To check for new email messages, select "Get Email" from the menu bar.
Roadrunner Email, TWC Email and Charter Email Login.
The Roadrunner Email, Charter Email, BrightHouse Webmail and TWC Email brands are now under the Spectrum umbrella after Charter Communications acquired Time Warner Cable for $78.7 billion in 2015.
Spectrum Webmail as fully owned by Charter Communications.
Older Roadrunner Email, Charter Email BrightHouse Webmail and TWC Email address inboxes can still be accessed, but only via the new Spectrum Webmail login page.
Spectrum Webmail.
Your Spectrum Webmail account explained: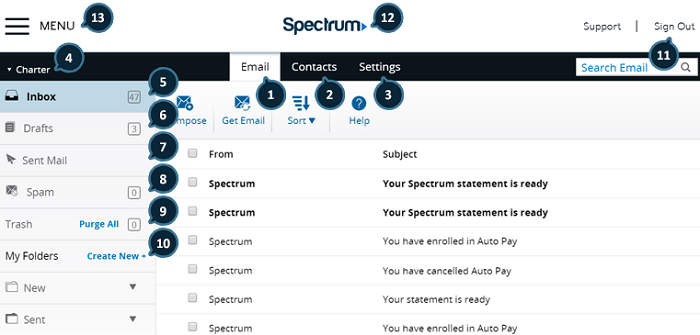 1. Email
Create, read and manage your email.
Search emails by keyword.
Compose: Create an email message.
Get Email: Refresh your inbox.
Reply, reply all, forward, mark as read or unread, move, delete, etc.
2. Contacts
3. Settings
Account and General Settings:
Display Emails as Plain Text.
Automatic Save Draft.
Permanently Delete a message.
Automatic Folder Update.
Time Zone.
Language.
Messages per Page.
Signature.
Mailbox Storage.
Enable Mail Forwarding.
Real Name.
Reply To Alternative Email Address..
Leave Copy.
Block Senders.
Safe Senders.
4. Unified Inbox Menu
Add and view email from third-party email accounts (Gmail, Yahoo, etc.)
5. Inbox
Read emails, reply, forward, delete, etc.
6. Drafts
7. Sent Mail
Access your previously sent messages.
8. Spam
9. Trash
10. My Folders
11. Sign Out
12. Spectrum Logo
13. Menu
Click Menu to open the Spectrum.net main menu to manage your Spectrum account or get support.
Spectrum Customer Service.
The Spectrum Customer Service phone number is: 1-833-780-1880 or 1-844-637-1562. (Roadrunner Email and Spectrum customers).
The Timer Warner Customer Service phone number is: 1-800-892-4357. (TWC Email customers).
The Bright House Customer Service phone number is: 1-855-222-0102. (Brighthouse Email cusotmers).
If you have problems logging in then visit your Roadrunner Email Login page FAQ, or share your issue in the comment section below.