TWC Email Login.
How do I log in to my Time Warner Cable email account?
What happened to the original TWC Mail (mail.twc.com) website?
How do I contact TWC Email support to reset my password?
Everything you need to know about TWC Mail.
TWC Mail is now Spectrum Webmail.
Following Charter Communications acquisition of Time Warner Cable for $78.7 billion in May 2015 (along with Bright House Networks), the TWC Email (Time Warner Email), Bright House EMail and Roadrunner Email were all re-branded as Spectrum Webmail.
Time Warner Cable was an entirely independent company, continuing to use the Time Warner name under license from its former parent (including the "Road Runner" name for its Internet service, now Spectrum Internet).
If you were a TWC Mail customer, you will still be able to log in and access your emails at the Spectrum Webmail login page.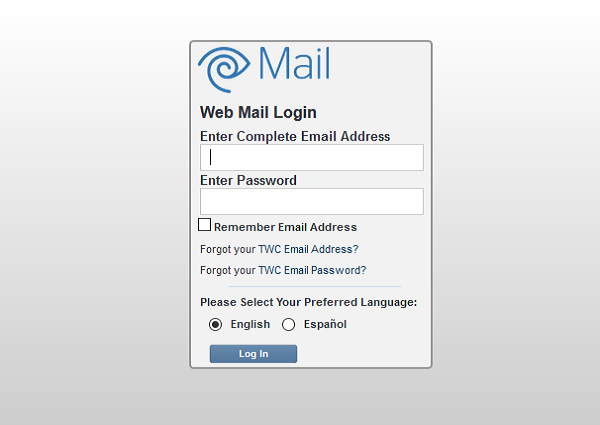 How do I Log in to my TWC Email account?
The original https://mail.twc.com website now re-directs to the new login page.
TWC Mail Login: To sign in to your TWC Mail account, do the following:
Visit the new official TWC Email login page at: https://webmail.spectrum.net/mail/auth.
Enter your original TWC email address in the "Email Address" field.
Enter your original TWC emal password in the "Email Password" field.
Tick the "Im not a Robot" box.
Click on "Sign In".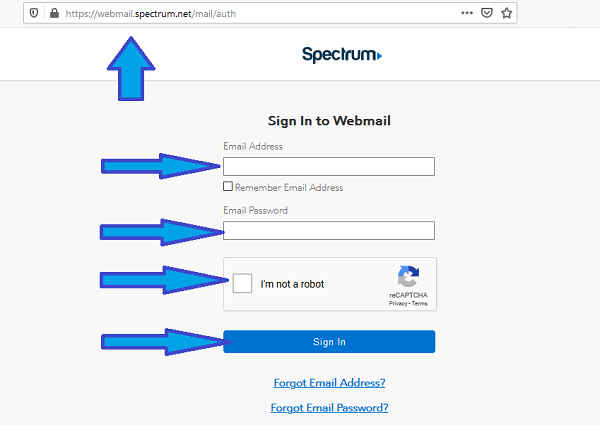 TWC Business accounts, now Spectrum Business, have a seperate login page found at https://mail.twcbc.com/.
How do I contact TWC Email Support?
Please contact TWC Mail Support (now Spectrum Support) at:
Spectrum Webmail support: 1-855-70-SPECTRUM (855-707-7328)
On Twitter at: @Ask_Spectrum
Or on Facebook at: https://www.facebook.com/Spectrum
You cn also try the official Support phone number for Time Warner Email Customers at: 1-800-892-4357.
(Para Español, oprima el número cinco).
How to Reset My TWC Email Password.
To reset your TWC email password (now Spectrum Webmail), do the following:
Go to the official Spectrum Webmail page.
Choose "Forgot Email Password?"
Choose "I don't know my email password".
Enter your Email Address.
Tick the "I'm not a robot" box.
Click on Submit.
If you have never used the Spectrum Password Reset Tool before at https://pt.rr.com, you will be asked for your modem's or routers MAC address. Cable Modems or Routers MAC ID addresses can be found on the bottom or back  of the modem, near a barcoded sticker. Cable Modem/Router IDs will appear after the letters MAC or EA (e.g: MAC 00-14-ab-34-cd-5e).
On iOS and Android mobile phones, your MAC address can be found under Settings, then "About".
How to Unlock an old TWC Mail/ Spectrum Email Account.
TWC/Spectrum email accounts are locked after 6 months of inactivity. Incoming messages willl then be rejected. All of your old emails are still available on your account, as long as your Spectrum Internet account remains active.
To unlock your YWC/Spectrum email account, simply sign in to your account and then choose the "Email" icon at the top right of the screen.
Setup Your TWC Mail Account with Email Programs Using IMAP.
To access your TWC email email account from a desktop/laptop email program such as Microsoft Outlook or Gmail, you will need the IMAP and SMTP settings ahown below:
| | |
| --- | --- |
| TWC Email IMAP Server | mail.twc.com |
| IMAP port | 993 |
| IMAP security | SSL/TLS |
| IMAP username | Your email address |
| IMAP password | Your TWC Email password |
| | |
| --- | --- |
| TWC Email SMTP Server | mail.twc.com |
| SMTP port | 587 |
| SMTP security | STARTTLS |
| SMTP username | Your email address |
| SMTP password | Your TWC Email password |
–TWC Mail–